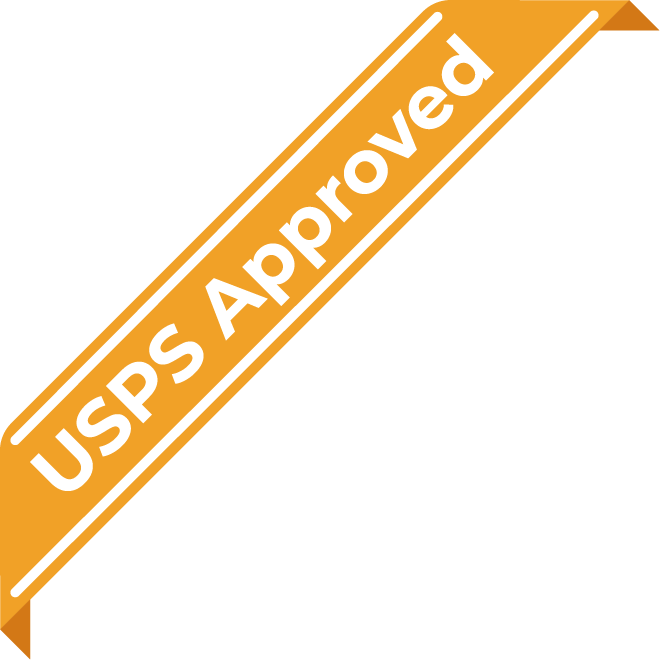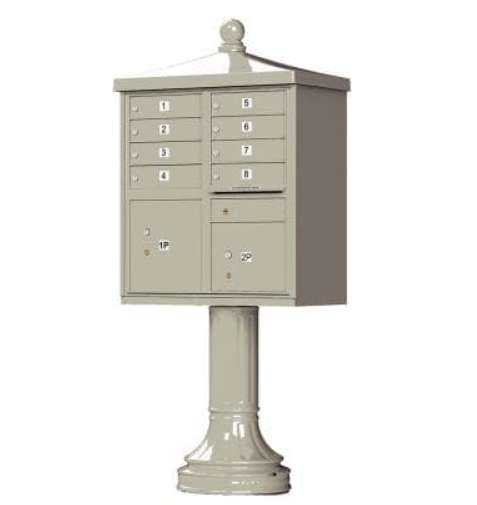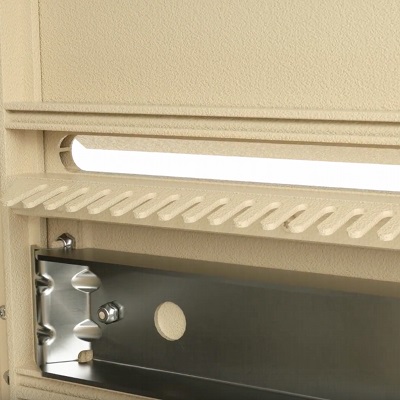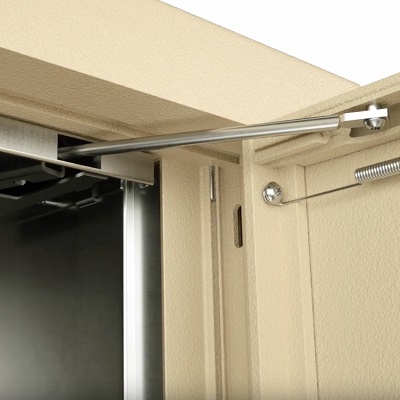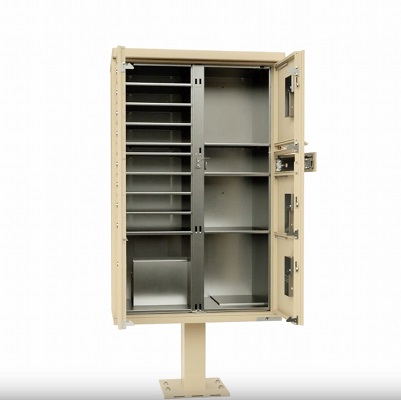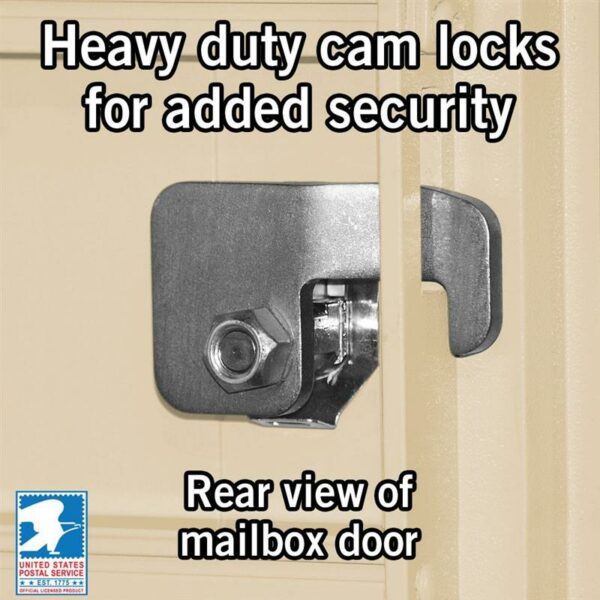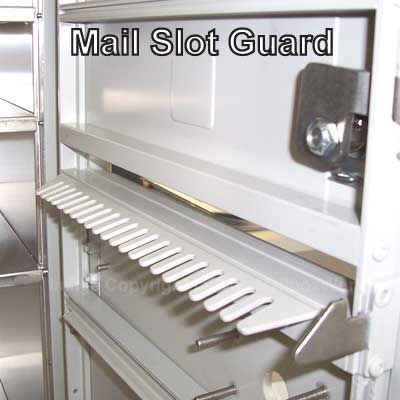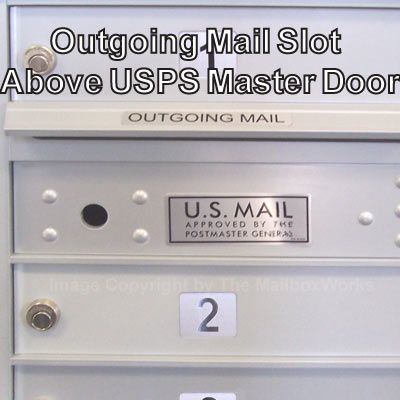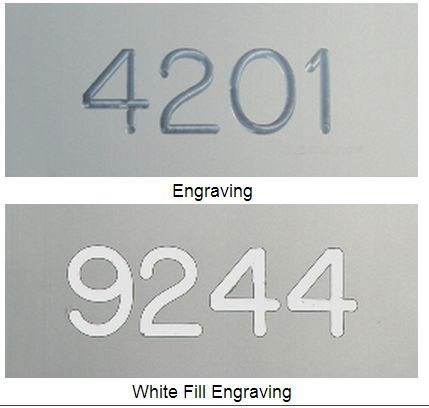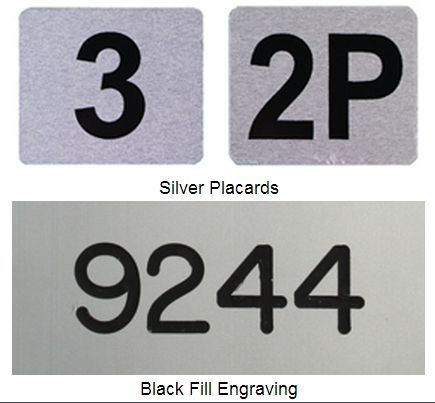 Request a Quote - CBU – Finial Cap 8 Tenant Door with Column Pedestal
[contact-form-7 id="6268" title="Request a Quote"]
CBU – Finial Cap 8 Tenant Door with Column Pedestal
$2,755.00
Bulk Purchase Pricing
Quantity
Price

2 - 5

$

2,672.35

6 or more

$

2,589.70
Florence 4C mailboxes are USPS Approved and meet or exceed STD-4C requirements for new construction and major renovations. They are also ideal for private delivery applications. With numerous pre-configured 4C modules available, be sure to refer to USPS Approval guidance in product details below when selecting pre-configured 4C mailboxes for your project

This affects all Auth Florence mailbox distributers

After an item is shipped please allow standard transit time for delivery.



Talk to qualified
experts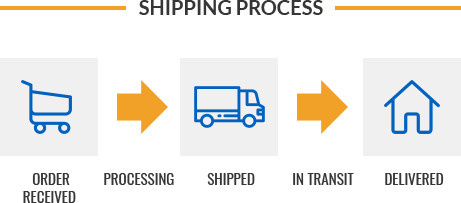 Centralized mail delivery equipment can be in the form of any "clustered" style of mailboxes, but the most popular is the free-standing, pedestal-mounted cluster mailbox or Cluster Box Unit (CBU). These USPS Approved units are most often used in outdoor new residential construction installations, but are also popular in commercial and retail settings. These pedestal-mounted units are widely used for safe, secure access to mail and package delivery 24 hours a day by multiple residents in one central location. Dress up your basic CBU with decorative accessories in two distinct styles to fit your neighborhood.
Continued growth in online shopping means providing ample parcel locker space for package delivery is more important than ever! Expand your resident's ability to securely receive packages by adding matching outdoor parcel lockers (OPL) to your new or existing centralized mail delivery installation, or create a standalone package center. Florence is proud to be the only manufacturer to offer six USPS Approved CBU models and two decorative accessory styles.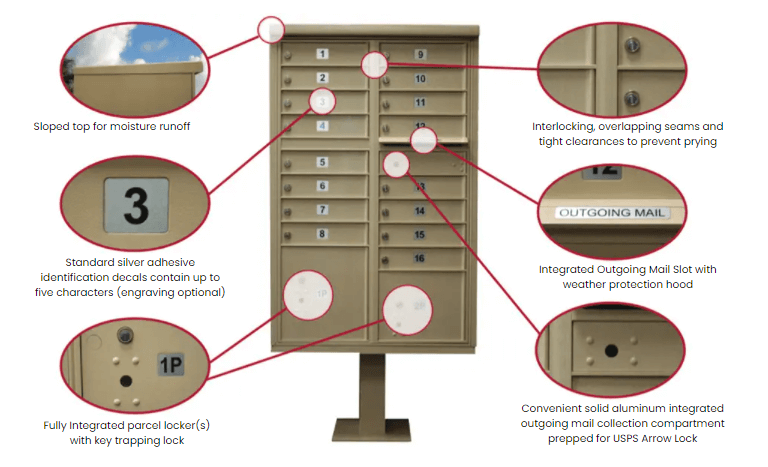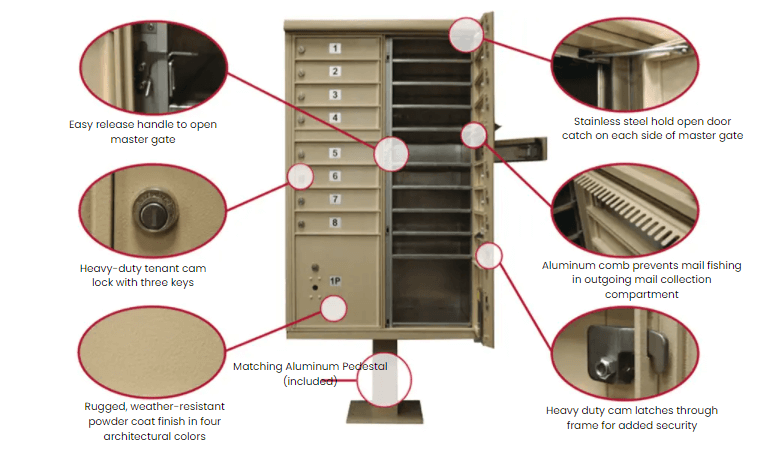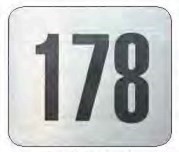 Decals: 4C mailboxes come standard with silver adhesive decals. 1-1/2″ high x 1-3/4″ wide. Black letters. Can contain up to five characters per decal.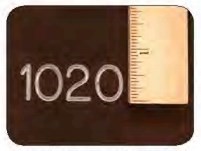 Engraving: Uses USPS standard US Block font and is 3/4″ tall. 12 characters per line, up to two lines per door.
TECHNICAL SPECS
Tenant Door Height:
 3.00"
HEIGHT:
Installed unit (on pedestal) height is 71-3/8"
WIDTH:
Installed unit width is 31-5/8"
DEPTH:
Installed unit depth is 18-1/2"
COMPARTMENT DOORS CHART
| Quantity | Compartment Name | Compartment Type | Compartment Height | Compartment Width | Compartment Depth |
| --- | --- | --- | --- | --- | --- |
| 8 | 3" Tenant | Standard Mail | 3" | 12" | 15" |
| 1 | 9-7/8" Parcel | Parcel Locker | 9-7/8" | 12" | 15" |
| 1 | 13-3/8" Parcel | Parcel Locker | 13-3/8" | 12" | 15" |
| 1 | Master Collection | Outgoing Mail | 6-1/2" | 12" | 15" |